Life and Mortgage
Buy insurance from a licensed advisor.
Know that the coverage you have will pay when the unexpected happens.
As Erica Johnson reports, bank staff selling mortgage insurance are unlicensed and rarely trained to explain the details and legalities of those insurance products. The result is people pay premiums and think they are covered, only to realize later that they are not. In Alberta, only licensed advisors can sell insurance, banks are prevented from selling insurance.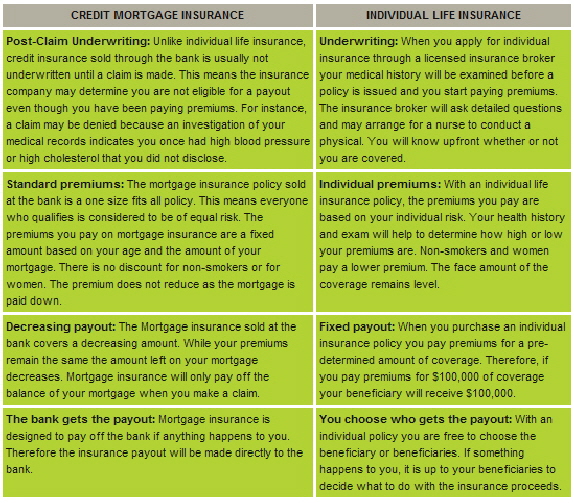 Watch
CBC Marketplace Busting the Banks on bank service charges
. The more accounts and services the more profit you give the banks.

What's your number?
THE FASTEST WAY TO BE MORTGAGE-FREE
Instead of making extra payments, consider switching to a mortgage that pays off the principal faster without costing you anything more. All-in-one mortgages combine a line-of credit mortgage with a chequing account to reduce your spending habits. You deposit your pay into the all-in-one account and pay bills as you normally would. While you're not using your money, it's used to reduce your daily loan balance.
Over the life of the loan, this save tens of thousands if not hundreds of thousands of dollars in interest.
Call us and talk to an advisor.
Let's Compare GIC Vs. Deferred Annuity
GIC

DEFERRED ANNUITY

Deposit
Maturity Value and date
Guaranteed interest rate
NOT creditor proof
SUBJECT TO estate costs

Deposit
Maturity value and date
Guaranteed Interest rate
CREDITOR PROOF (named beneficiary)
PASSES OUTSIDE ESTATE(named beneficiary)
NO PROBATE FEES
EXPEDITES ESTATE SETTLEMENT
SEGREGATED FUNDS
are the insurance industry's answer to mutual funds with much MORE to offer.
Guaranteed death benefit value
(usually 100% of deposits)
Guaranteed maturity value usually
75-100% of the deposits.
TFSA - Open a Tax Free Account ($5,500./year) - Call or Come in to discuss.